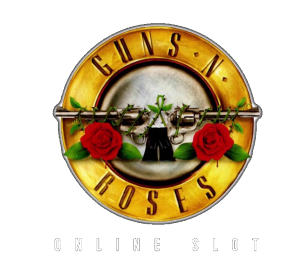 When I first saw the Guns ´n Roses slot I though "Oh no, not another eye candy game that is absolutely hopeless to play". Because, in my experience, the more bells and whistles a slot has, the poorer the game play. It´s as if the designers are overcompensating for something.

But when we started to play (try our free Guns ´n Roses slot demo and see for yourself) we were quickly drawn to the game. Net Entertainment are very good at this kind of thing- that´s why they have been so successful by shaking things up in the industry. Doing a "Rock Out" slot range is pretty ground breaking in itself when you think of all the games that are based on ancient Egypt or that have Irish leprechauns in them. Add in some pretty amazing graphics and a thumping soundtrack and you have a pretty absorbing game. I have to admit that I am not a big fan of Guns ´n Roses (the band), but even I was getting into "Welcome to the Jungle".

Net Ent, the people behind the Starburst slot, have loaded this newer game with features. There are 5-reels, 3-rows and 20-lines stuffed with Wild substitutions, Expanding Wilds, an Appetite for Destruction Wild, a Bonus Wheel, Bonus symbols, Encore Free Spins, Legend Spins, a Solo multiplier and a Crowd-Pleaser Bonus Game. And here comes our only criticism of the game- maybe they have just tried to load too much in here. Sometimes less is more? It´s a small criticism- the more you play it, the more you get used to all of those different features. Just don´t expect to get bored quickly!

The whole scene is set as if you are at one of their concerts, and you´re watching the action unfold over a bunch of swaying heads which is a pretty cool effect.

The Guns and Roses slot soundtrack includes Welcome To The Jungle, Sweet Child O' Mine, Paradise City, November Rain or Chinese Democracy pumping out as you play. You can change the set list, or you can just switch off the background music if you like, but that kind of goes against the whole point of this slot.

We hit the random multiplier a couple of times in the base game - good for up to a 10x kick up the backside to your winnings. You might also see the Legend Spins feature at random in the base game which gives you 3 free spins – the middle reels will change into a stacked wild reel on the first free spin. On the 2nd spin, it will be reels 1 and 5 and on the last spin it will be reels 2 and 4 that go wild.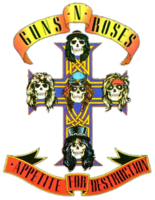 Then there´s the Appetite for Destruction Wild feature – which is an overlay wild in the form of a cross that can come up, either in full or in part. Add all these to the standard wilds, and you can understand that there is often a lot going on. Just make sure you keep an eye on winnings versus total bet. You might keep winning on one pay-line, but if you are losing on the other 19 you might be down overall. Don´t let the machine dupe you!

As well as all of this random stuff kicking off, if you land 3 scatters on reels 1, 3 and 5 and stop the spinning wheel to see which Scatter Bonus you have won.

The Crowd Pleaser Bonus is a pick 'em feature over 3 levels. Pick 3 of the 8 available symbols and reveal cash bonuses, free spins and +1 (more picking option). You will move up to level 2 and 3 if you manage to win enough coins.

The Encore Free Spins feature is 10 free spins – one of the band members will come up as an overlay stacked wild on the 3 centre reels. Then there's the Coin Win- a simple cash prize. This is the feature that you really need to see motoring for the big wins.

Phew. We feel exhausted just explaining it all- your best bet is to give it a go and get to grips with the various features. This is the best licensed game since the Game of Thrones slot and Tomb Raider. Check out all of those feauture bonuses- there´s enough of them!
Despite my initial reservation about this slot being all about the branding and band and less about the game play, we have to admit that I love playing it. it´s very entertaining. My only reservation is that there is maybe too much going on, to the point where you start to feel like a rabbit stuck in headlights. But that´s a small criticism I guess. If you´re in the mood, it´s great fun. Just don´t play it if you want to relax!