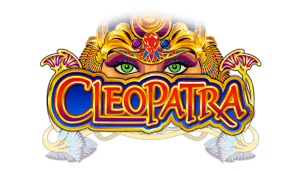 If you've ever been to a land-based casino in the UK and have arrived here never having heard of Cleopatra then you are either living in a bubble or it wasn't really a casino! IGT's flagship slot is everywhere - to the point where I often let out a groan that so many of the slot games in a casino are Cleopatra games. UK casino licences only allow for 20 slot machines (unless it has a "super casino" licence) so it's a tad annoying when several of those 20 are the same slot game. To me, anyway! If you are playing online and you want to play Cleopatra, try the Sky Vegas Slots section- it has quite a few IGT games. Or head to BGO Casino which is also good for IGT (they are in the BGO Vegas tab).

There are two Cleopatra slots worthy of mention and both will probably be familar. The original Cleopatra with it's 15 freespins at 3x feature and Cleopatra 2 with an increasing multiplier feature. The latter is my favourite because, although it is high risk, the risk/reward ratio is greater. If you like Cleopatra II then it is worth mentioning is that Playtech have taken that "increasing multiplier" concept and added it to their excellent Marvel slot, Iron Man 2 though with a slight difference.

Anyway, Cleopatra: the most notable thing about the online version of Cleopatra is that it has a 95% RTP (expected return to player). The land-based version is significanly less and it's easy to spot why. On the "stand up" version of Cleopatra in casinos it doesn't pay on 2 9's. On the "sit down" game King version neither does it pay on two scatters! The online version pays on both. The "Online Casinos of Vegas" website has a free Cleopatra slot to play if you want to demo the original.

In 2012 , IGT released a slightly modified version with updated graphics and a coupe of slight nuances in the mechanics. To be quite honest, the new version doesn't have the same nostalgic appeal of the original "Game King" version and even though it's identical game-play, the first version just feels better. Really don't know why they bothered - Cleopatra has proved so successful down the years it seems silly to modify it the way they did.

Going back to RTP, with Cleopatra 2 it's harder to spot why the percentage payout is higher in the online version but it is. Again, online it is over 95% and I am pretty sure this is mainly down to the number of spins and retriggeres you get in the free spins feature. Both versions max out at 50 free spins with a 50x multipier but you'll rarely if ever get that high. I've had 27 free spins with up to 27x multiplier before but never more.

The Cleopatra slots are immensely popular and with good reason - they successfully combine entertainment with a decent chance of profiting and will probably always remain among the most popular slot machines of all time. For the foreseeable future at least.